To set up opt-in at checkout for Shopify, setup is required within Shopify and within ReSci:
Compliance Note: With this method, double opt-in flow is required for compliance purposes.
---
Setup in Shopify
Go to Settings and click the Checkout icon:
Add the ability to collect phone numbers under Contact information at the top of your checkout page

Scroll down to the

Customer contact

section
Under

To check out

select the radio button next to

Customers can check out using either their phone number or email
Add an opt-in checkbox to get permission to contact your customers

While in the Checkout section, scroll down to

Email marketing
Select

Show a sign-up option at checkout
Add disclaimer copy to the opt-in

Staying in the Checkout section, scroll down to Checkout language

Click on the

Manage checkout language

button
Scroll down to

Checkout marketing
In the

Accept marketing checkbox label

field, paste the following (replace [your name] with your Brand Name):

I agree to receive emails or SMS messages from [your name]. By joining via text messages, I agree to receive recurring marketing messages (e.g. cart abandon) from [your name] at the mobile number used to send the join text message. Msg & data rates may apply. Msg frequency varies. Consent is not a condition of any purchase. STOP to unsubscribe, HELP for help. View our Terms of Service and Privacy Policy for details.

Scroll to the top of the page and click

Save
Collect phone numbers under the Shipping address at the bottom of your checkout page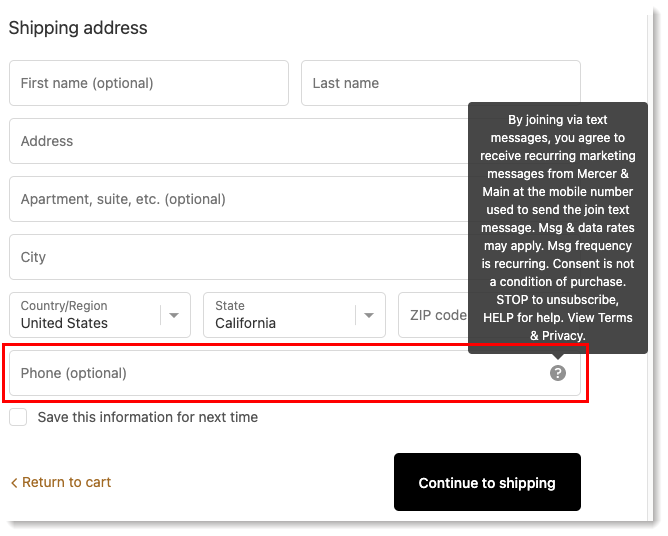 Back in the Checkout section, scroll down to

Form options
Under

Shipping address phone number, select

Optional
Click

Save
Add disclaimer language to the Phone tooltip

In the Checkout section, scroll down to Checkout language

Click on the

Manage checkout language

button
Scroll down to

Phone tooltip, paste the following (replace [your name] with your Brand Name):

By joining via text messages, I agree to receive recurring marketing messages (e.g. cart abandon) from [your name] at the mobile number used to send the join text message. Msg & data rates may apply. Msg frequency varies. Consent is not a condition of purchase. STOP to unsubscribe, HELP for help. View our Terms of Service and Privacy Policy for details.

Scroll to the top of the page and click

Save.
Add code to your checkout page that enables the Opt-in at Checkout SMS messages to be sent to your customers
Note: The below code snippet includes modal display and purchase tracking.
In the Checkout section, scroll down to Order Processing

and find the section labeled

Additional scripts
Copy the code below and paste it into the top of the

Additional scripts

section
Click

Save
If ReSci SMS code already exists in the Additional scripts section, please replace it with the code below
Important: Replace 'Client ID' in the code below with the Client ID found in your SMS dashboard under Settings—>Company—>Client ID

{% if first_time_accessed %}
<script async src="https://assets.voyagetext.com/voyage.production.js"></script>
<script type="text/javascript">
/* <![CDATA[ */
(function(){if(window.voyage)return;window.voyage={q:[]};var fns=['init','event','track'];
for(var i=0;i<fns.length;i++){(function(fn){window.voyage[fn]=function(){
this.q.push([fn,arguments]);}})(fns[i])}})();voyage.init('Client ID', { popup: true });
/* ]]> */
</script>
<script type="text/javascript">
voyage.track('Purchase', { amountCents: {{ order.total_price }} });
{% if order.customer.accepts_marketing == true %}
const marketingPhone = '{{ order.customer.phone}}' || '{{shipping_address.phone }}' || '{{billing_address.phone }}';
marketingPhone && marketingPhone.length > 9 && voyage.track('MarketingPhone', { marketingPhone });
{% endif %}
</script>
{% endif %}
Setup ReSci SMS Dashboard
Create an Opt-in at Checkout campaign:
Navigate to the SMS dashboard.




Click

List Building

in the left navigation bar.
Click the

+ New list building campaign

button in the upper right.




Select

Opt-in at Checkout.
Click

Next.



Enter

your

Welcome Message text and Link URL, and then click

Done.