Before users are removed from your campaigns it's a good idea to reach those users with a last chance message, giving them one more opportunity to re-engage with your brand. First you will need to build the right segment to reach these users, then define your messaging, and lastly, set up your campaign.
---
Build your segment
You will need to create a segment that is nearly identical to the dormant users filter but falls just a few days short of the same threshold.
The Dormant Users filter in Cortex looks for users who have not purchased, engaged with email, or engaged with your site (signup, item view, shopping cart, search) within the last year. For our Sunset email, we will reach users at 360 days of no activity, 5 days before the Dormant Users filter kicks in.
Example: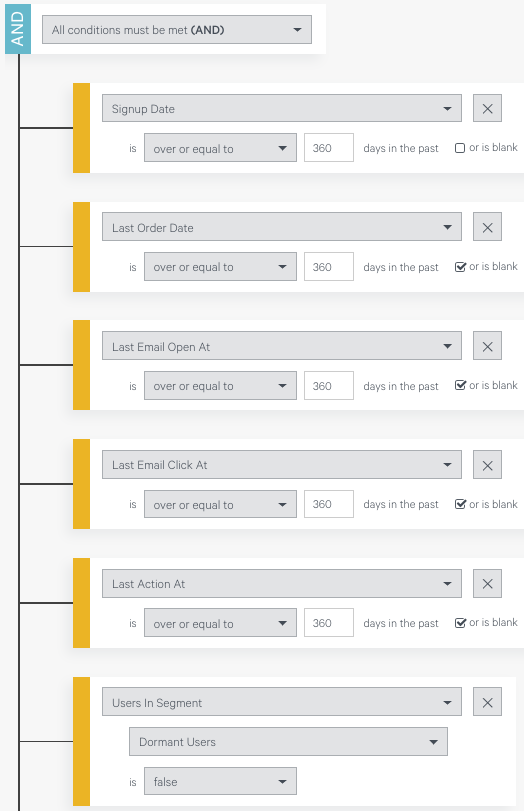 Important: Don't forget to check "or is blank"
Checking the "or is blank" box allows us to reach users who have never taken these actions. For example, most dormant users do not have a purchase, so their "last order date" is blank.
Define your messaging
You will want to include the following two sections in your email: context and a call to action. When building your template, this email will go into the Smart Blast stage.
Context
We need to make sure the user understands why they're receiving this message: they've been disengaged and we want to keep them around. Your context starts with the subject line and should introduce the idea that the user is going to be lost or let go. Popular options include "We hate to see you go!" and "Are you still interested?"
Following the subject line, you may want to use specific messaging to add detailed context. "We haven't seen you around! At [your brand] we try to only send emails to our biggest fans, and it looks like you haven't stopped by in almost a year."
Call to Action
Make it clear what the user needs to do next, so they can stay on your email list. While just opening the email is enough to remove the user from the dormant list, we want to generate as much activity as possible to re-engage the users with your brand.
"If you're still interested in [your brand] emails, please click here to visit our store and see the latest items in our catalog! This will help us learn about your preferences to send better emails in the future."
Set Up Your Campaign
Take the following steps:
Build your email in Smart Blast
Apply your filter to the Smart Blast
Schedule your Smart Blast for 1 year
Since a Smart Blast can only send once to any user, we'll want to refresh this campaign every year so that users can re-qualify year over year.