Targeting customers by location allows you to tailor your language and/or promotions to your audience, which improves customer engagement through personalization.
Did you know? If you'd like to target customers in a specific zip code or radius, you can use the Zip Code Filter when creating your segment.
---
Create your location segment
To get started segmenting your customers, create a new segment by going to the Smart Segments page and clicking "Create New" in the "Your Segments" section.
Set your filter conditions. This example is going to send only to users in the USA: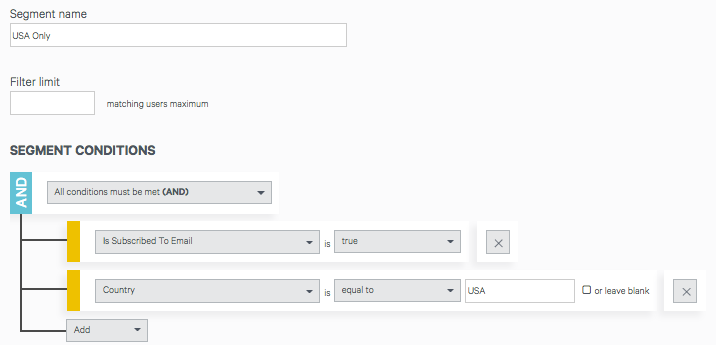 Notes:
Location information is added to Cortex through data collected on the client side. Check with your tech team to see if you are sending over location data, and what format it's being sent in (e.g. United States, USA).
Filters are not case sensitive. UNITED STATES, United States, and united states will all filter successfully.
Important! Make sure you do not include a space after the location name! 'United States ' will not show any results if you're looking for 'United States'!
Use your location segment
Create a new email or edit an existing template. Don't forget to use a descriptive title to help you easily identify who the email is targeting.
Navigate to the "Advanced" tab. Select the smart segment you just created from the drop down.

Best Practices
When you're targeting one group with a tailored message, don't forget about everyone else! This filter is the inverse of the previous example, and will send only to people not in the USA. If the email send to USA customers only highlighted free US shipping as the priority message, this email could focus on global shipping rates.
Don't forget to use dynamic recommendations and multiple subject lines to allow Cortex to optimize your sends!
Start your filter with "Is Subscribed is True" to get an accurate count of subscribed users for your smart segment.