This article is part of the Cortex Stage Guide. For the Subscription Cortex Stage Guide click here.
The Welcome email is the first communication new users are sent when they sign up to receive emails from your brand. After a user signs up for your mailing list, they will receive this Welcome email immediately.

Who receives the Welcome email?
When will the Welcome email send?
---
Who receives the Welcome email?
Any new user, regardless of their subscription status, who has been submitted to Cortex through a valid API call will receive a Welcome email. This will occur whether or not they make a purchase.
When will the Welcome email send?
The Welcome email will be sent immediately upon the user entering the database. It will reach all eligible users unless you override the send with a Promotional Blast.
Welcome email best practices
Keep in mind the following when building your Welcome email:
Use language that reflects your brand message and inspires engagement.
Use a strong hero image that reflects the core of your brand.
Remind the shopper of any standard incentive (e.g. "free shipping on all purchases").
Consider including a special first purchase incentive.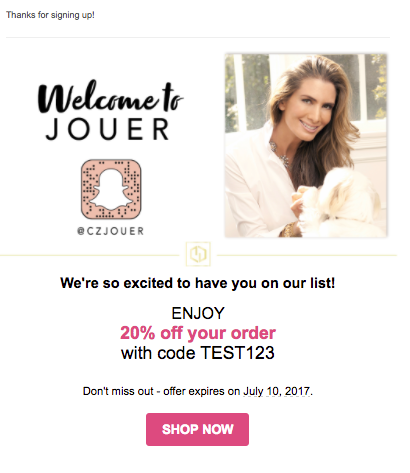 Please take note:
Currently, product recommendations are not supported in the Welcome stage.
Currently, the segment selector is not supported in the Welcome stage.
Welcome email API setup
Please take the following steps to set up the Welcome email API, if it was not setup during your Onboarding period:
Contact Tech Support by emailing help@retentionscience.com and request they generate an API key for the Welcome stage.
Once you receive the API key and you see the Welcome stage in Cortex setup the API call, go to: http://developer.retentionscience.com/
In the upper right of the navigation bar click: select API --> data/v3.0.0 to see the documentation for the user API

Questions on setup? Email help@retentionscience.com for assistance.
Set up your Welcome email
Once your Welcome email API call is setup, take the following steps to create a new Welcome email within Cortex:
Under the Cortex menu on the left, click

Stages.
Under the "Welcome" tab, click the Welcome block.




Click

New email

>

Create new.




Follow these steps for setting up your new email.
Additional articles: