Many email marketers find themselves building and rebuilding emails for common events such as new and back in stock items. This is a time consuming process that only becomes more and more difficult as a business grows.
Cortex can automate the creation and delivery of these emails, freeing up your time and effort for new projects.
For example, see the custom built email below for Blueberry Protein Pancakes that uses a custom image for the product image and the product name at the top of the email.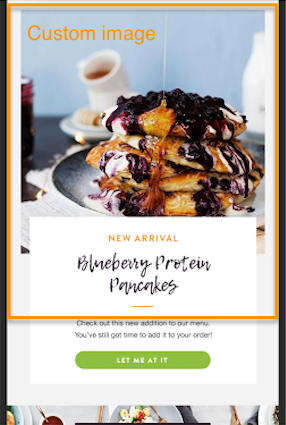 Building a custom image, hosting that image online, saving a new template, and scheduling an email is a time consuming task for any marketer. Cortex is designed to handle that work for you by using merge tags that will automatically populate with the item name and image.
Using HTML elements, it's even possible to overlay text or a text box on the product image.
For
targeted stages like New Arrivals or Price Drop, the first recommendation should always be an item that fits the stage and the individual user. Therefor, Cortex will automatically fill the email with the image and name for each new arrival or back in stock item.
This type of template can be used for New Arrivals, Price Drop, Item Back In Stock, Follow Up, and Replenishment emails. It can also serve as a base for Cart Abandon and Browse Abandon templates.