This article is part of the Subscription Cortex Stage Guide. For the Cortex Stage Guide click here.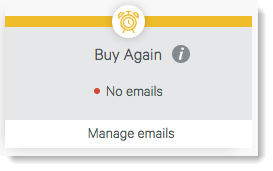 Sometimes you have add-ons and other one-time purchase items that go with your subscription box. Sometimes these items wear out or get consumed and need to be repurchased (think the shaving cream with subscription razors). Buy Again is designed to drive repeat purchases of the same product based on the expected repeat purchase rate.
Who will receive Buy Again?
Customers who have purchased any of your items with a replenishment interval set up will receive a Buy Again email.
When will Buy Again send?
Buy Again is controlled by an item's replenishment interval, which is the number of days after a purchase when a user is expected to re-purchase.
An item's replenishment interval can be set in three ways:
Explicit - Your store can set the replenishment interval for specific items, providing in-depth control for marketers. To learn more about setting the replenishment interval click here.
Predicted (individual) - If a user has displayed re-purchasing behavior, Cortex will set replenishment intervals specific to each user's shopping habits.
Predicted (average) - Without any explicit data, Cortex will interpret an average re-purchasing interval for items in your store. This average time will be used to control Buy Again sends.
Important! Explicit replenish intervals will override any predicted interval.
How do product recs work for Buy Again?
Buy Again emails will populate with the previously purchased items whose replenishment interval overlaps within a 2-day window.
You can learn more about adding product recommendations to your Buy Again emails here.
Best practices:
Create 2-4 templates with 3-5 subject lines so Cortex can optimize your open and click rate.
Use targeted language that shows appreciation for the customer and calls them towards another purchase.
Include a strong Call To Action.
Recommendations:
Use Smart Segments to target one-time and repeat purchasers differently.
Offer a very small or no discount.
Provide smaller discounts or no discounts for repeat purchasers to avoid diminishing the value reputation of your products at full price.
Include strong branding and language that encourages regular use of your products.