Marketers may refer to this as a "Winback" program. The way Winback programs are typically built tend to be intensely rule based, and thus can become rigid, difficult to scale, and do not react to subtle changes in customer behavior. Artificial Intelligence in the palm of your hand can do it better, simpler, and at scale.
While winning back customers is no easy task, with conversion rates that average well below 1%, this is still a critically important action for your business. It is not about getting one more conversion from a churned customer, but rather providing a great buying experience so those customers will spend much more in the future. This is also a great opportunity to learn why a customer chose to leave your business.
By enabling Cortex's churn triggers, you get powerful churn models out of the box, even predicting those customers who are at risk of leaving your business, and putting the right products and incentives in front of them to encourage them to stay.
Stages Needed

How it Works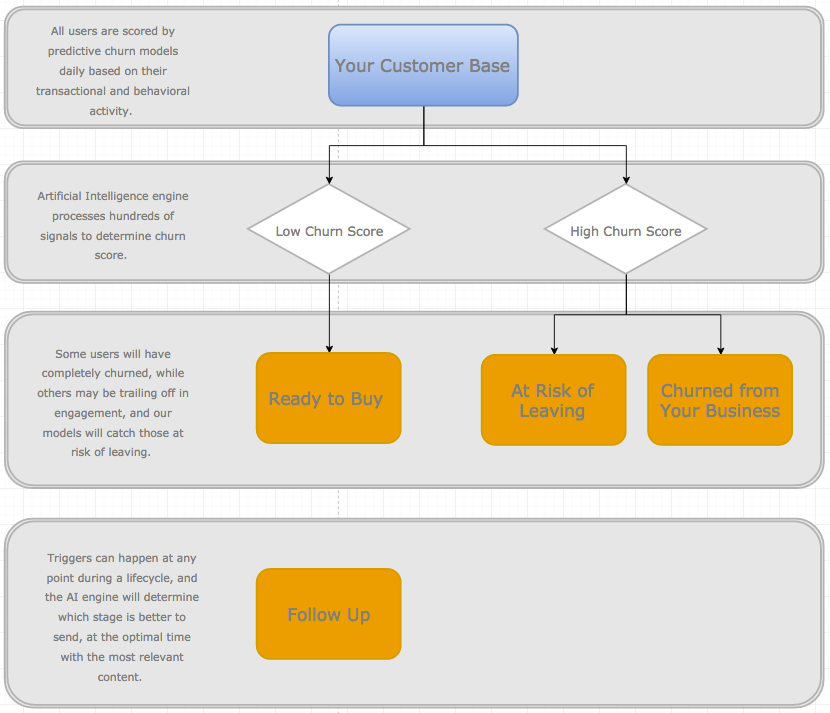 Tips
For those customers who have completely Churned from your Business, template content should contain "missing you", "come back", or "see what you missed" type of messaging, with careful attention to your specific company's voice and persona. Definitely use a merge tag for an incentive here. Cortex will try for a max of fourteen days to send this stage for each user who has fallen into the Churned state, while following the user interval distribution.
For those At Risk of Leaving, provide some broader messaging, as you don't want to signal that you know they are "at risk." Saying "thanks for being a valued customer", or providing some unique and interesting content is recommended, along with an incentive. Like the Churned from your Business stage, Cortex will make attempts for a max of fourteen days with this stage for each user, while following the user interval distribution.
Those users who are very engaged, are likely Ready to Buy[1]. Include calls to action that entice a purchase in this template, and enable our predictive product recommendations and incentives.
For those users who make a purchase, make sure to provide a Follow Up message after their purchase, as this is a long term play for lifetime value after winning them back! This is a good opportunity to send more product info, collect feedback, and use our predictive incentives and product recommendations.
[1] Ready to Buy can send indefinitely if no other actions are eligible, so multiple subject lines, multiple templates, making merge tag content prominent and towards the top of the email template are recommended.