Not only does Cortex track all your user and customer actions, it also tracks what emails a user receives and interacts with, helping it learn what messaging to target customers with in the future. You can visualize this behavior for each individual user in the Email History section present in the Microscope Tool. Here you can visualize the last 100 emails that a user has received. You can see the date it was sent, the stage or campaign that was sent and the template that was sent. The last data point is the action the user took when they received your email.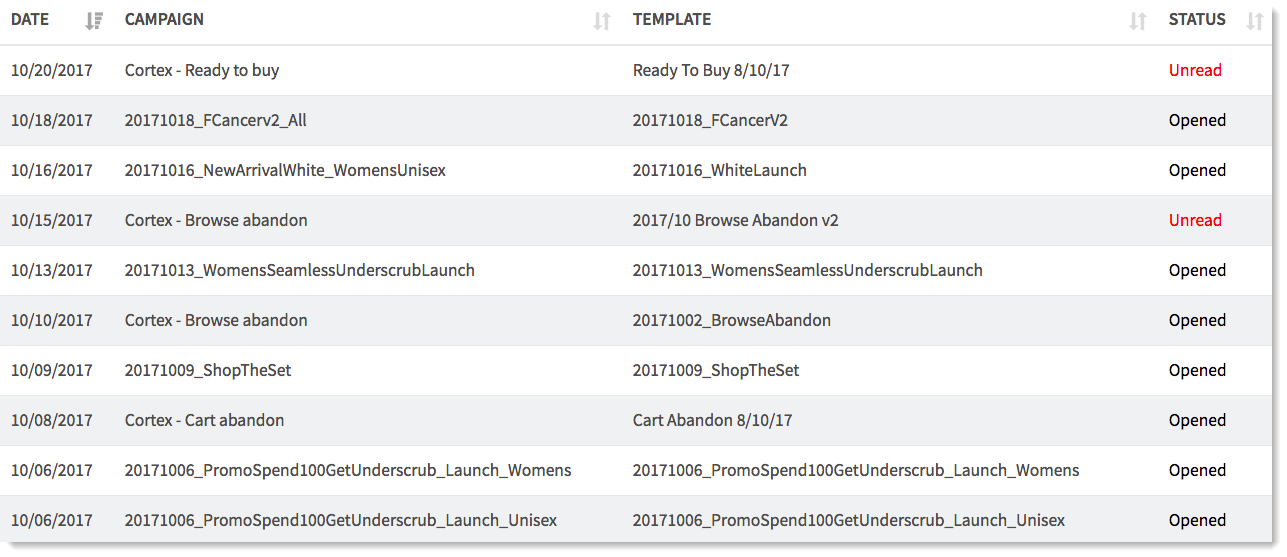 There are four distinct actions:
Unread - This means that the email had no action. The user received the email but did not open the email. Add new subject lines to your stages and templates to entice users to open.
Opened - The email was sent and opened by your customer. Congrats! Your subject lines are getting opens. Try out some new subject lines to make sure others don't get stale. Think about why that subject line may have caused an open and improve and build upon the insights.
Clicked - Even better! The content of the email drove your user to the site! Think about the layout and content of the email. What may have caused the user to click on the email. Think about these factors when designing new emails.
Converted - You did it! The perfect message found the perfect user with the right products and successfully made a purchase. Think about what made this easy for the user. Was the CTA clear? Did you serve up some relevant product recommendations using relevant content? Keep pushing the boundaries with more tests throughout the lifecycle.
That's the basics of the Email History for Microscope! You can check out the descriptions on the other sections below: