Google Ads Sync allows you to leverage ReSci's powerful predictions and segmentation tools to target specific customer segments with Google ads.
This article will cover how to install the Google Ads integration and how to sync your data to Google Ads from ReSci.
Important: You must be whitelisted to use Google Ads Audience Sync. If you are not already whitelisted, please contact your Google Ads rep for assistance.

We are only able to sync users that have all Google Customer Match data fields filled.
Data fields: Email, First Name, Last Name, Country, Zip, Phone Number
---
Setup
This article will walk you through the setup process to start syncing your Cortex smart segments with your Google Ads campaigns.
Click Integrations in the navigation bar.
Search for Google Ads and then click the Google Ads block.




Enter your Ad Account ID and click Install.




Select the account you want to sync with.




Click Continue to grant access to manage your campaigns.




You will be sent back to Cortex where the integration will finish installing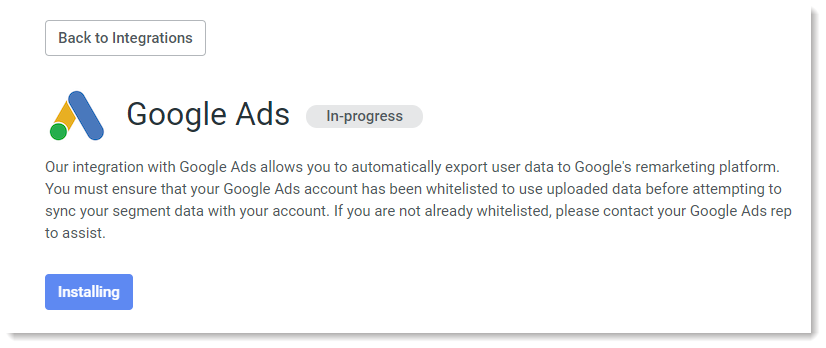 Usage
Once you've installed the integration, you can choose segments to sync with Google Ads.
Click Segments within the "Audience" menu on the left.




Choose a segment to target in Google Ads and click the sync button.




The segment will display in your Google Ads account. It will sync every 24 hours thereafter. After a sync starts, the button will change to a "stop" button. Press stop if you want to stop syncing. You can start the sync again at any time.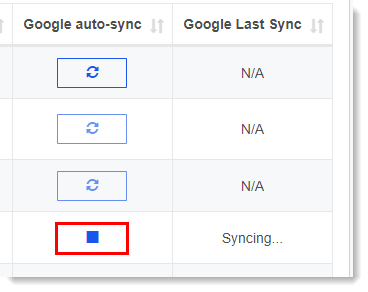 Note: If there is a sync currently running and you press "stop", that sync will complete running first, and then no future syncs will occur until you start it again.