Now that you've adopted the scientific method as the best possible way to improve your messaging it's time to set up your experiments. 
You likely already have content for the majority of stages, so let's first identify what we can use, and how to map that to Cortex. 
Abandon Messaging
If you are already running any of the following campaigns, Cart Abandon, Browse Abandon or Search Abandon, then you likely already know that these stages are high value touches that drive revenue. There are three main reasons why these stages perform well:
Relevancy
When a user shows interest in a product through a cart, search, or browse action, they are signalling to you that your products are right for her/him. They are likely in one of two camps. Either a repeat purchaser coming back to buy again, or a new purchaser who has made it through the education and evaluation stages of the buyer's journey.
Purchase Intent
This reason is most true for a user who has abandoned her/his cart. The purchase intent decreases in the order of Cart --> Browse --> Search, with search being a stage where a user may need some help finding the right product for her/him. Through this understanding we can develop different creative based on the degree of purchase intent.  
Personalization
The product, timing and messaging all have an impact on how these stages perform. Utilizing a first name or focusing on other products that may be relevant can help to increase click rates and make the email feel more personalized. 
Identifying Your Abandon Content
If your content has any of the following attributes it is likely an abandon message, and the content can be used across all of our abandon stages as a control.
1. The content is already tied to a Cart, Browse or Search Abandon stage in your current ESP.
2. It contains any of the following messaging: "You left this behind!", "Don't miss out!", "Forgetting Something", "Had Your Eye on this One?". Anything alluding to interest in a specific item the customer may have.
3. If neither 1 or 2 above apply, you can also utilize template structure as a way to repurpose emails that you may have already built.
If the template features a hero image as the first item in the email, this is a great place to feature an abandoned item using our dynamic merge tags, in place of the hero image. 

Does the email highlight or feature a specific product? 

Is the layout an upside down triangle leading to a call to action button?
All of these indicators will help you identify specific emails to begin your abandon stage controls. In the next section of this article we'll take an example of a client that was using Cart Abandon only and show you how to change up the messaging to easily create Browse and Search Abandon content.
Cart Abandon
As you can see the message below meets our criteria for an abandon message. It has abandon messaging, utilizing both urgency ("Shop today before it's gone") and letting the user know that the item was left behind. 

Now let's see how to quickly and easily transform this Cart Abandon message into a Browse Abandon Message.
Browse Abandon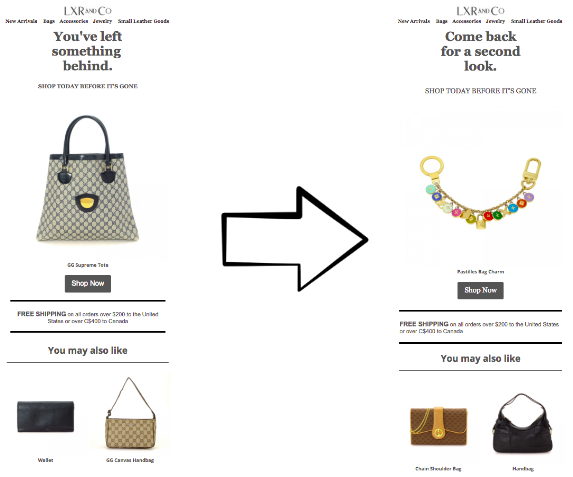 As you can see LXRandCo easily repurposed this template into a Browse campaign by simply changing up the copy for the initial tagline. Not only does it act as an easy transition for the marketer, but it also serves as your very first control template. It also gives LXRandCo three customer centric advantages:
Creates a more personalized experience for the customer
Gives the customer a chance to further explore the product catalog
Give the customer a consistent experience across different stages of the lifecycle
Just one more modification to make and we can turn it into a Search Abandon template, perfect for helping customers find the right products and increase exploration even further.
Search Abandon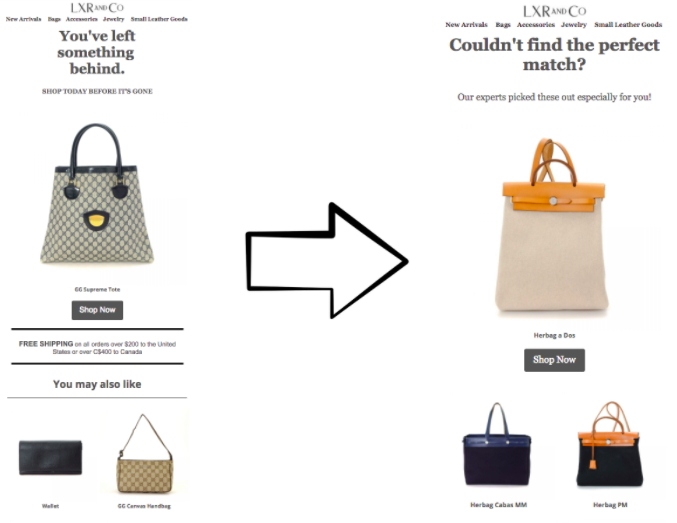 With just a simple copy change and restructuring the template to feature the personalized dynamic product recommendations, LXRandCo was easily able to make a search abandon template. Furthermore they took the approach of making this a customer service message. They focused this message on helping the customer find the right bag for her/him. This bonds the customer to LXRandCo and places their brand at the right micro moment to help the customer make a decision.