You're on an acquisition tear by utilizing Data Science to gain you high value customers, but how do you know these new acquisitions are actually generating revenue for your business?
This questions is at the heart of every marketer's acquisition efforts. The key to understanding this information at a more meaningful level is to correctly tag incoming users via a registration source.
Ok, but what's a Registration Source?
A registration source is a way of tagging a user with data that helps us track this user's opt-in to email marketing. If a user clicks on your FB ad, arrives at site and opts in or makes a purchase we should tag that user with one of the following:
Facebook

FB Ad

FB Data Science Ad

Facebook - Dress Ad
Each one of these names has positives and negatives. We'll discuss how to frame the proper tagging later on in this article.
Now that we know what a registration source is we can get into why this is important.
Why should I spend the time to do this correctly?
One of the most important business objectives in any e-commerce business is to drive traffic to the website. Law of e-commerce: Increased traffic + Good Product + Easy Checkout = Increased Revenue

Now this equation does a great job of breaking down how an e-commerce business can succeed but it misses a crucial part of the cycle which is Acquisition Spend. If a specific acquisition channel is pushing spammers, bots, or fraudulent users to your site, you're paying for leads that are actually adding cost without generating revenue. Properly setting up a registration_source program will allow you to identify where to spend your advertising dollars and where to decrease your spend. Remember: added setup now means accurate actionable data later.
On top of being able to analyze your acquisition channels for effectiveness you can now track these users and differentiate the messaging. Someone who comes in from a sweepstakes is more likely to stay a subscriber by welcoming them in the correct way.
Modern Citizen did a great job of utilizing the registration source segmentation in order to explicitly welcome new users coming from a sweepstakes.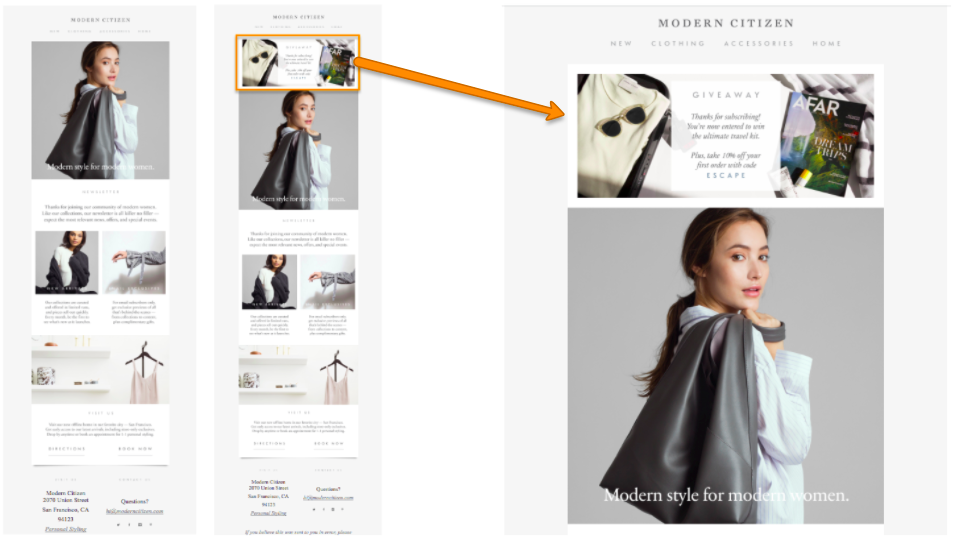 By correctly tagging these users as they opted-in, Modern Citizen was able to segment the list and deliver branded content to these new sweepstakes users simply by adding a new Hero Image at the top of the email. They were also able to test three different incentives (No Incentive, 10% off and Free Shipping) to gather some information on how incentive sensitive users from this sweepstakes are.
Normally sweepstakes users tend to be disengaged and underperform with brands because of the nature of the opt-in, the possibility of winning the sweepstakes. Simply by personalizing this first message they matched the KPI performances of their organic traffic users, and also learned that not offering an incentive actually performs better than offering free shipping.
Personalizing the experience goes a long way to increased engagement and retaining valuable customers.
Ok, Ok, now how do I set this up?
With a little foresight and process setup you can make tagging new users via a registration source, simple and automated. Below we'll go through the Pros and Cons of nomenclature, and two ways to set reg source, automated and manual.
Nomenclature
First let's determine how to name each registration source.
Be sure to always approach this question from a reporting standpoint. The end goal is to make sure we know how well these acquisition channels perform. There are three basic ways of tagging a registration source, each with pros and cons
Reporting Question
Example Tags
Pros
Cons

I want to know how every individual ad performs

FB Ad - Product A

FB Ad - Value 1

FB Ad - Value 2

Granular Reporting on performance of ads

Easily remove ads that underperform

Lots of new registration sources

Cumbersome to implement

Google Analytics can do this through UTM tagging

I want to know which Ad locations (site based) perform well

Facebook

Instagram

Google Ad

Google Organic

Able to see which sites drive the most users

Parse down on specific channels that underperform

More actionable dataset

Easy setup

No additional information on what informs the channel

Only high level data (not granular enough)

I want to compare specific acquisition strategies

Facebook - Ready To Buy

Facebook - HCLV

Sweepstakes

Able to see which acquisition strategies perform best

Still able to make decisions on channel

Gives you insight into which Data Science segments perform better

Medium involvement for setup
Once you decide how you want to tag users based on a registration source, it's time to setup the process.
Process 1 - Manual List Upload
This process is for anytime you get a list of emails from a place that can't be captured electronically. Some examples are Trade Shows, Sweepstakes Partners, In-Store Demos or (tsk tsk) Purchased Lists (Don't do it! Not even once!).
Best practice is to run a check against your current user base and make sure that the the list is composed of only new users.
Follow the instructions in this help desk article and be sure to add the proper registration source to each user, based on the nomenclature above

Upload the list - and voilà, you now tagged all those users with a registration source

You can now segment these users to make sure that
Process 2 - Automated Setup - Best to Get Some Tech Resources
This process will allow you to automatically tag users as they signup for your newsletter. You'll definitely need some technical assistance if you're not too savvy with JavaScript or API calls.
Make sure that all of your acquisition channels are UTM tagged so that you can pull a source tag from the UTM variables

Ask your technical support to incorporate the UTM source variable into a JS wave as a registration source call (this can also be done via out events API)

Once an email is entered be sure that the email, and the registration source are captured in the JS wave or in the events API call.

Your new user is now captured with the a registration source based on the ad that he/she clicked.
Congratulations! You're now all set up to segment, evaluate and make decisions about your acquisition channels!