What is email deliverability?
Simply put, successful email deliverability is your message arriving in the inbox of the recipient as intended. Email delivery failure is when your message is either routed to the junk/bulk folder or blocked by an ISP (Internet Service Provider).
So, how do you make sure your email gets delivered? Luckily there are proven techniques to prevent failures and improve your delivery rates for the long-term. This guide offers an overview of the steps most businesses need to take to maximize their email deliverability:
Build your reputation
Secure your infrastructure
Authenticate your mail streams
Monitor your sending data
Send great content
Reputation
The first step in helping ensure email deliverability is reputation. In the world of email, sending reputation refers to a set of speci c metrics directly related to your email sending practices. Senders with good reputations get delivered and senders with poor reputations get blocked at the gateway or their messages land in the "junk" folder instead of the inbox.
A strong sending reputation, like a great brand or personal reputation, is built over time. Here are the metrics the ISPs look for when determining sending reputation: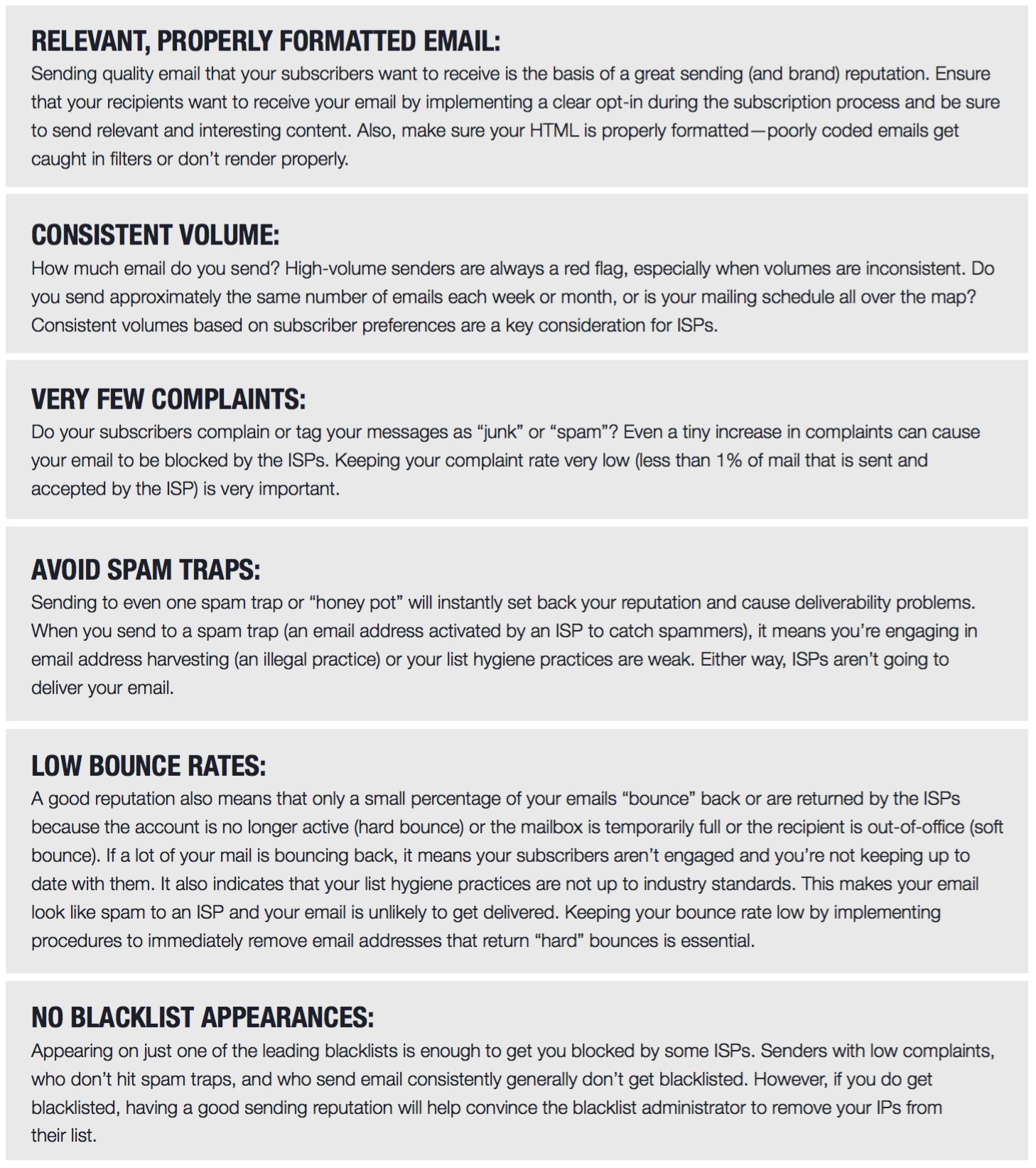 Infrastructure
Setting up and maintaining infrastructure for high-volume email is complex, challenging, and expensive. It's not as simple as maintaining a corporate email environment, and very different rules and standards apply. You'll either need dedicated staff who understand the ins and outs of email to monitor your email program, or you can turn to Retention Science who works with SendGrid to manage this for you.
Are you using a dedicated ip address?
If you're a high-volume sender who is working with an email provider, make sure you have an IP address dedicated to your mail stream. Ideally, have at least two IPs, one for your transactional email and a second for your marketing/promotional email. Sharing an IP address with other senders means their practices and reputation will have a direct impact on your deliverability—and that's not good for any business.
Are your mail servers secured or could a hacker use them for spamming?
Make sure you don't have an open relay or open proxy. Follow industry standard best practices for network and server security. All the best mailing practices don't matter if you don't have control of your environment.
Are you signed up for isp feedback loops?
And do you have a process for managing complaints? Not only do you need to get signed up for all major ISP feedback loops, but you also need a process for rapidly removing email addresses that log complaints. Continuing to mail to people who have reported your email as spam will result in deliverability failures.
Do you have "postmaster" and "abuse" mailboxes set up for all your domains?
If yes, are you monitoring them? Many ISPs require that these mailboxes be set up and working to get access to their feedback loops. These are also common destinations for complaints from ISPs that don't have feedback loops.
Is your sending domain able to receive mail?
Your sending domain needs to be able to receive mail, and it must have a valid MX record. If not, some ISPs will block your email.
Authentication
Authentication is an "ID check" for your mail streams: it validates that the email is actually from you, and not some spammer impersonating you. Authenticating your mail streams does not ensure that your email will be delivered, but it helps ISPs to further differentiate your business from spammers and other illegitimate senders. As fraudulent "phish" emails and other deceptive practices endanger consumers and businesses, authenticat- ing your email is one positive step you can take today to make the [email] world a better place.
How Does authentication Work?
There are two main methods of authentication that you should implement:
Sender Policy Framework (SPF)
Domain Keys Identified Mail (DKIM)
Get informed. You can find detailed information on DKIM and SPF here:
DKIM: http://www.dkim.org AND SPF: http://www.openspf.org
Using Artificial Intelligence For Deliverability
Even after the above technical requirements, you may still have deliverability issues. Here are common questions to consider when sending a promotional blast or any lifecycle message. With Retention Science Artificial Intelligence and Sends, we help personalize your email subscribers' timing, content, and offers so you can focus on your brand's message.
Will my subscribers want to read this email?
Have I included both HTML and plain text version?
Is my email optimized for mobile?
Am I getting the email to the subscriber at the right time?
Don't use NOREPLY@DOMAIN.COM in your emails.